We beleive only in the best. we want to bring joy and happiness to people. we love "the little prince" and still beleive in miracles!
let's do good for the sake of goodness and let's help to make this world a better and a brighter place.
We invite everyone this december to charity concerts:
Welcome to our site! We are M.A.D. BAND - ska-punk orchestra from Moscow.
(если у вас меню на русском языке, а страница на английском - кликните ещё раз на Российский флаг, это баг. If you see menu in russian language and page in english - clck on England flag once again, it's a bug)
On our site you can check, listen and download our songs (for free) or you can watch our live-show and music video. If you want to invite M.A.D. BAND to your local city - check section "Contact us". And our recent concerts schedule you can find in section "Concerts". That's it, feel free!
Main news:
*****
Breaking news! The M.A.D. BAND will be an openning act before worldwide most well known ska-punk band from Spain - SKA-P! We have played lots of venues in Russia and Europe with the hardcore, punk-rock and ska-punk stars, but this show is going to be something really special for us! We have grown up on the SKA-P songs as many of you has as well! See you all at Glavclub on the 17th of October!
*****
In July gang goes to his next Eurotrip: mad-band.com/concerts

*****
Hi guys! M.A.D.Band group travels to its next Eurotrip which will be held in July-August this year. One of the main news of this tour - M.A.D.Band will play at the biggest punk rock festival Podparou 2014 and it is not the latest news! Forward to seeing all at our concerts!
01.08.2014.  M.A.D.Band. Podparou fest Moravska Trebova (CZ), www.podparou.cz
*****
Good News, Folks! Still having excitment from our recently anniversary concert, we are happy to say that next Friday MAD Band will play 1-hour gig before famous Spanish band The LOСOS.
07.02.14. 19.00 M.A.D.Band + LOCOS Moscow Theatre Club http://vk.com/event60593581
*****
It's finally about to happen! Moscow ska-punk ensemble M.A.D. BAND is celebrating its 10th anniversary! But it seems it wasn't long ago that two old friends – Igor "Garry" Sanko and Dmitry "Prupis" Prupis, keen on a common idea to play energetic, driving, assertive music with quality brass sections, joined forces and the group began to take its first steps on the big stage ... It is time to sum up the results of this decade, a fruitful decade, within which M.A.D. BAND have managed to become a legend of Russian ska-punk. Four studio albums, split-album in collaboration with Discoballs (Czechia) and Wisecracker (Germany), participation in loads of tributes and compilations, documentary DVD, recorded during one of the Euro-tours is a direct confirmation of that. These days the ensemble successfully performs on the venues of Moscow and other cities of Russia, shares the stage with leading ska and punk collectives, over the last 4 years have given a plenty of concerts in Austria, Czechia, Germany, Poland, Slovakia and Spain. Who's next? Let us dwell in detail on the Euro-tours, as with each new concert the Band gains more and more hearts of the European music lovers! What amazes most is that the main stages of famous festivals, such as MightySound, ProtiProdu, leading Czech folk FolkovaNoch fest, were conquered. And, absolutely unexpectedly, one day the Band gave a concert at the Czech nuthouse! According to Garik, the vocalist, it is a kind of the response to the AC/DC, which once played at a prison. Besides, you will become an eye witness of the reunion of the oldest punk-rock band Gazon with fascinating Oksana on vocal. The concert is to be opened by young but already well-known bands SKAmboDja and MONKEY BUSINESS. As always, there is going to be a lot of drive, positive, hot emotions, dances till you drop, memories of the past years and, of course, a huge number of old and new hits from the birthdays! It's gonna be HOT! P.S. You still haven't got the ticket?
C u at: http://vk.com/event63212819
https://www.facebook.com/madbandrus
https://www.facebook.com/totaci
*****
December 27th M.A.D.Band band together with a group of Red Devils and give Christmas concert. Will be pleasant surprises. This will be the last concert M.A.D.Banda before their 10th anniversary.
*****
Good news! Group M.A.D.Band going to Europe in November. This will be the last round before the jubilee year for the band of the 10th anniversary. We wish the guys good luck and a fair wind!
*****
Hi friends! On July 27 a group M.A.D.Band will play their only summer concert in Moscow dedicated to the birthday Garik Hegel club promised connection with it to make discounts on beer. Entrance will be free. A lot of writing here is not necessary, it is clear that all of a warm, friendly atmosphere. And you can come without a gift.
*****
Our trombonist Andrew "Schera" became the face of the Spasskaya Tower in 2013. Now, all over the city you can see his happy face :)
*****
М.A.D. Band Radio Webcast from 26.06.2013 "В гостях у ЧаЧи"
*****

Guys, we have a bad news. Unfortunately, our lead singer broke his collarbone in an accident.Therefore we have to cancel our next gigs. We apologize for any inconveniences and wish Garik a speedy recovery.




*****



*****

DEAR FRIENDS! LET'S SUPPORT OUR BAND WITH YOUR VOICES HERE




*****
 

Good News, Ladies and Gentlemen!
Ska Orchestra M.A.D.Band, just celebrated 9 years of the band, have finished their 4th LP and going to present it in the new Eurotour in March 2013.
Working name of this LP is "Notes of Dmirty Evgenyich". Let's wish the boys good luck and a fair wind!

 

*****

 
 

2 february in moscow club "Bilingua", despite the cold, will hot. Very hot! Kings of moscow ska-punk stage the band - M.A.D. Band will celebrate his 9nt birthday. Will a lot of hits, new songs, which will soon wait popular.Wild dance and remember about lats euro tours. And fights, who will be first take alcohol on the bar. Positive and clockwork atmosphere, which very often happens on the concerts of M.A.D. Band, and which give more because of the birthday date.

 

*****

 



Awesome news: On the last days of October M.A.D. Band will play two rock shows with their foreign friends from Sweden, band called Ska'n'Ska. The first gig will be in Dozhd-Major club with Gazon, Plush Fish and Yorsh bands on support. The second one will be in Live Club and support will be Suspense Heroes Syndicate and SkamboDja. For more information check out our website and pages in social networks. See you all on our concerts and be in touch pals.

 

****

We are ready for leaving Moscow to make the best what we can on our live-show! Check final version of tour on "Concerts" section with all the links to the Facebook events and links to the posters for events! See ya!

 

*****

Breaking news! Unfortunately we are unable to perform a show on 9 of July in Prague. Than - 9 of July is still vacant for concert organization. If you are promoter, organizer or know someone, who can help - please, contact with us. We need a show on 9 of July - somewhere between Prague and Vienna. It would be best to find a date in Czech Republic on our route to Vienna. Thank you, in advance.

 

Furthermore, we are create a new page on Facebook and start a page on Bandzone.cz!

 

*****




We are finally complete to approve our Euro-tour 2012 dates! Read more in "Concerts" section.

 
 

 

*****

 

M.A.D. BAND will perform on Proti Proudu festival, that will taking place in Moravske-Budejovice, Czech.

 
 

*****




M.A.D. BAND preparing for summer euro-tour - check out "Concerts" page - we are still fill in our tour dates schedule step-by-step, as soon as we organize new one!

 

*****




 

 

M.A.D. BAND will perform on  Mighty Sounds - most famous SKA-PUNK-OI-HARDCORE festival in Europe. Festival will be held from 13 to 15 july. In order get whole information about festival and buy tickets go to the official site: http://www.mightysounds.cz/

 

 
 

*****

We are happy introduce to you a compilation Echte Ubersee Vol. 6, where we represented by song "Fotoapparat (Camera)". Our friends Oferta Especial also on compilation wit song"Kara O Kruz"!

 



*****




After Spain eurotour we will do a Spanish Resaca Party! We'are already have an event in VK, dedicated to this show.

 
 

*****




In april, we will invite to Moscow our friends from Spain - Oferta Especial! Dates of our together gigs already exists in section "Concerts". You may check them (and their records) at Oferta Especial official site - http://ofertaespecial-oe.com - records exists in section "Descargas".

 

New phtossesion of M.A.D. BAND - for all photos - click on a link or on a photo below.

 

*****



 

*****

Good news! Brass section of our lovely favourite M.A.D. BAND will help our friends Rakety Iz Rossii (Rockets From Russia). We will rock out famous Russian media-event Chartova Dujina in Crocus City Hall! We waiting for 7 march!

 
 

*****




M.A.D. BAND celebrated his 8t birthday in club Bilingua. Thank you all, for your support! Photos from gig - link.

 
 

 

 

Для перехода на русскую версию сайта кликните здесь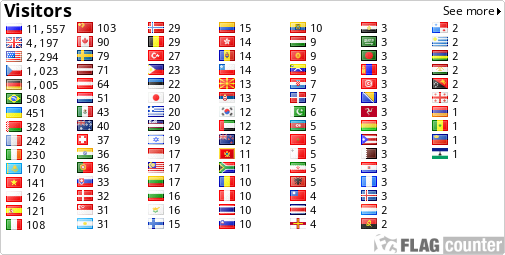 FLAG counter setted-up since 2012 year.